Pressure Treated Timbers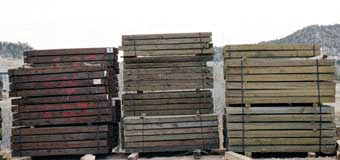 LONG ISLAND LANDSCAPE TIMBERS DELIVERED
C.C.A. Pressure Treated Timbers - These "state of the art" treated timbers. They are put under 150 lbs. p.s.i. pressure until the wood has absorbed the prescribed amount of preservative (chromated copper arsenate). This treatment is ideal because the pressure saturates the soft areas which are the most susceptible to decay. This type of treatment gives the wood either a green or brown color. If one timber is darker than another, it does not mean it has more treatment, it is determined by the species of wood and exposure to sunlight. C.C.A. is a water based treatment which bonds itself to the wood cells, consequently it leaves no oily residue and it has a clean surface. These timbers are user friendly. They are lightweight, and can be cut easily, nailed without drilling and painted or stained a desired color. Pieces of this wood should not be burned as they can release harmful gases.
Railroad ties and timbers are excellent for building retaining walls, bordering, fencing, garden dividers, planters and other decorative uses.
If you need to hold timbers or rail road ties in place for retaining walls we have 10" spikes (130 per box).
About Us — We have been selling and installing railroad ties since 1978. We're the leading supplier of landscaping ties and wolmanized railroad ties on Long Island. Because we are conveniently located we can deliver your order quickly and efficiently. Ties are shipped immediately on receipt of your order via truck. The reasons to choose us are clear. We're professionals who can deliver the landscaping ties you need… on time and at the right place.
Structual and Functional Uses — Be creative: Discover all the ways to "Tie one on". Railroad ties lend raw, natural beauty to any landscaping project. Use them as functional elements, or for decorative accents. Use them in fences, corrals, chutes, steps, retaining walls, flower boxes, borders and walkways. Use them for construction applications instead of brick, cinder block, or synthetic materials or use them in combination with other materials to create variety of attractive textures and designs.